Pet Accessories and
Supplies in Portland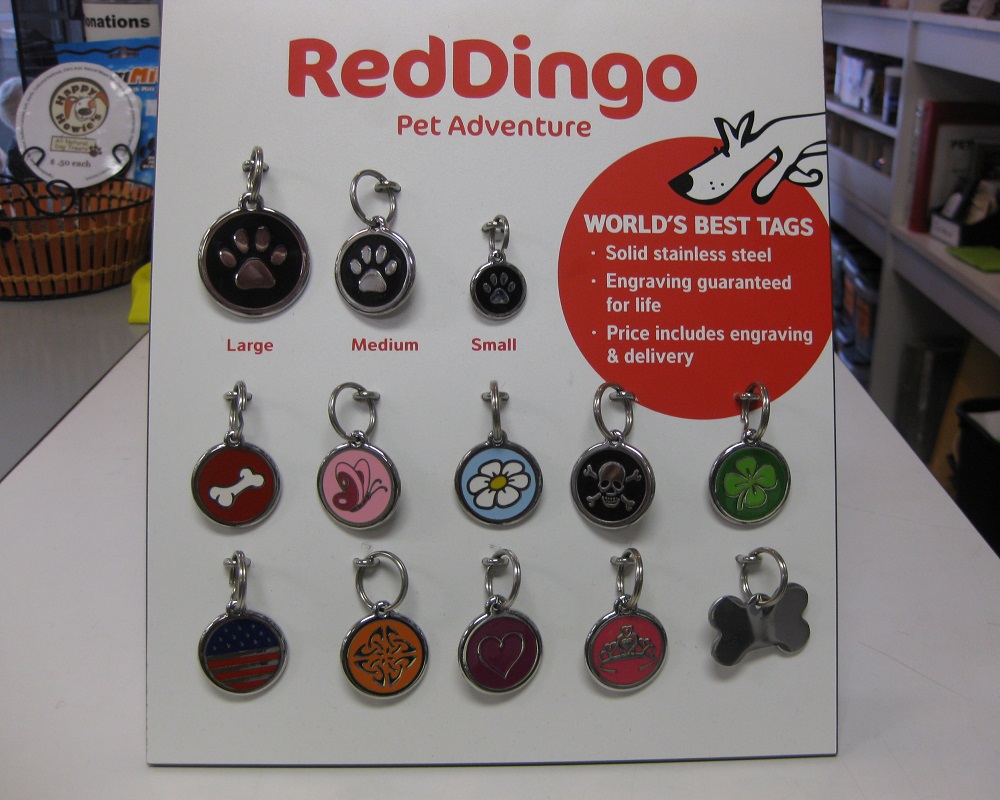 Are you looking for pet accessories such as collars, leads, grooming supplies, pet beds, stain/odor removers, clothes, and boots? I know, this list could just go on and on.
If you're like us, you know that having a pet is a lot more complicated than just putting out food and water. We work hard with our vendors and travel to the biggest trade shows around to find you the best pet accessories in the business.
We carry the industry-leading independent brands of most of the hard goods and supplies that you will be looking for. If we don't stock exactly what you need, just let us know, and we would be happy to try to order anything our suppliers have available to us.
About Bowls & Food Storage Products
Bowls & food storage items for your pet have become more sophisticated. In the last few years, a few companies like Drinkwell, who is now owned and operated by PetSafe, and Pioneer Pet Products, have come out with water fountains that keep the water circulated and fresh.
Studies have shown that clean, freshwater entices cats and dogs to drink more often, helping them to have healthier urinary tract and kidney function. Both Drinkwell and Pioneer pet fountains are veterinarians used and recommended. Dog and cat bowls have taken advancements too.
They have no tip and no-slip dishes, slow feed bowls, travel bowls, anti-spill bowls for the car, and feeders that catch the overflow from messy eaters. We have recently added a variety of colorful slow feed bowls from Kyjen!
We carry a variety of stainless steel, ceramic, and high-grade plastic feeders. Our Ceramic bowls have a very pretty gray outside and blue inside glazes.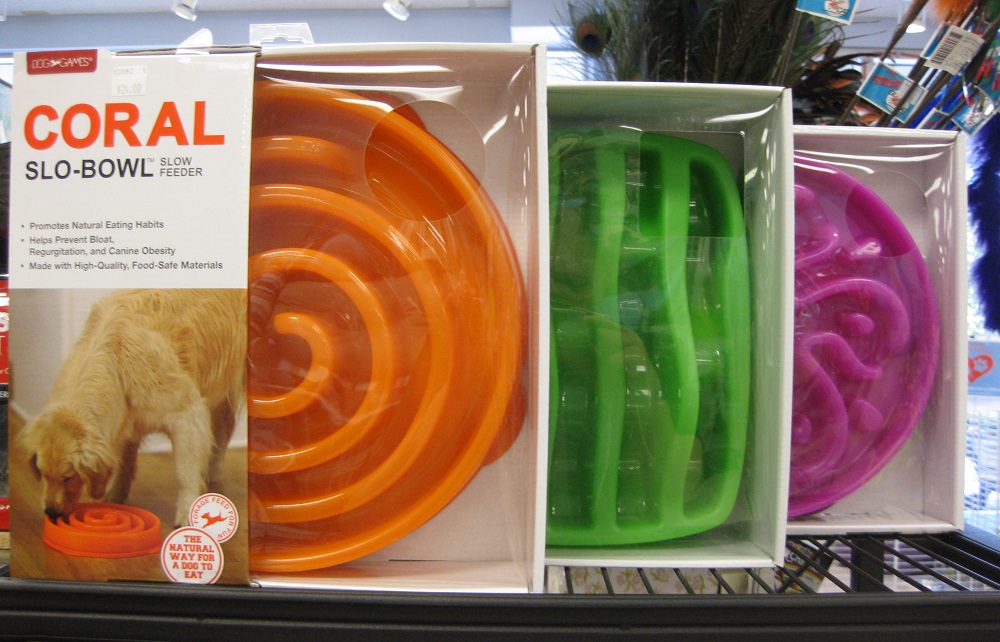 One of the causes of cat acne is from bacteria growing in the scratches made in cheap plastic bowls, that's why we stock a large variety of ceramic and stainless steel pet dishes.
We also have basic elevated diners and adjustable diners for large, growing dogs. We have a variety of kennel cups that attach inside the kennel door in plastic and stainless steel styles.
We keep a limited supply of gravity feeders because, in most cases, it's better to avoid free-feeding, but we do have some in stock. Along with the bowls themselves, we also carry a great selection of airtight food storage bins made by Vittle Vault, and a few different food mats to keep your floor a little cleaner. Stop by and check out our selection.
Standard Bowls and Accessories:
Travel Bowls:
Food Storage:
Water Fountains & Filters: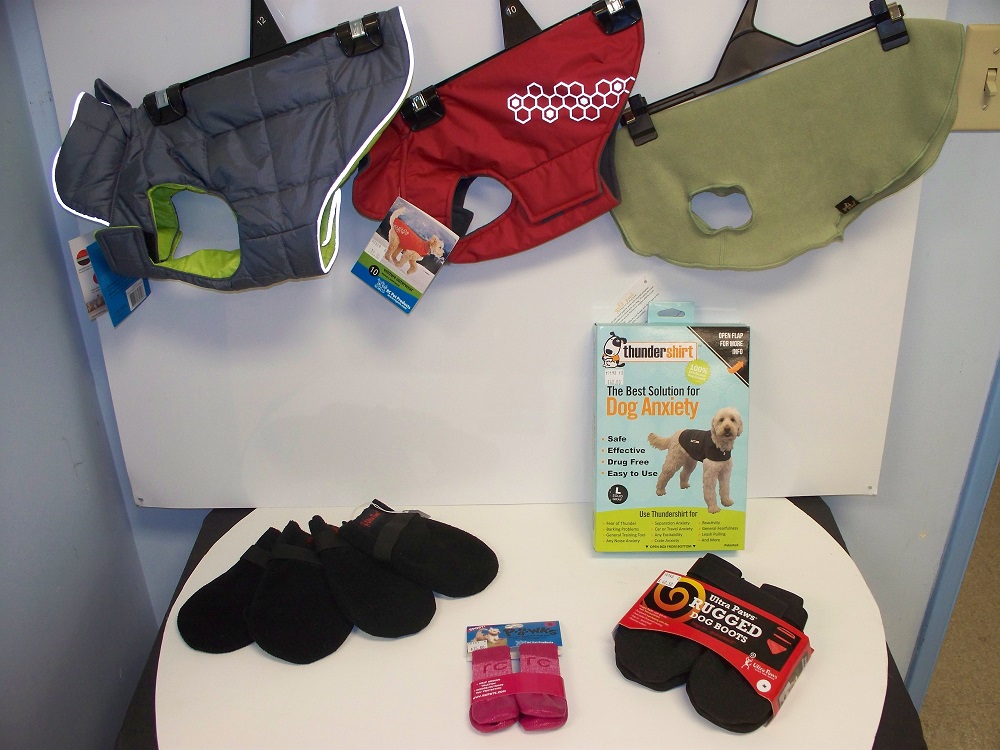 Our Pet Clothing, Beds and Boots
The pet clothing, beds and boots sales in our area have never been great, but there's probably no surprise when I say we sell a lot of raincoats, this is the Pacific Northwest after all.
We carry raincoats made by R.C. Pets, and fleece-lined raincoats from Ultra Paws. We have some warmer coats from Petragious Designs and sweaters from West Paw. Both the Petragious Designs and Ultra Paws coats have a reflective lining for safe walking at night. We have a great selection of Nite-Ize Spotlights, which are a bright flashing collar attachment, so you can be even more visible on your night time walks. The Spotlights come in red, blue, white, green, and a multi-color version.
Nite-Ize also makes a more basic model that comes in only white but is just as bright called the Pet lit. We regularly stock both varieties. Our dog bed selection is much more balanced with crate pads, bolster beds, and cave styles. Crate pads consist of the West Paw Nature Nap and Eco Naps, F.Y.D.O, and the Midwest Quiet Time fleece beds.
West Paw Design has a small carbon footprint, they use a recycled plastic bottle filling for all of their beds, and the Eco Naps are made entirely out of recycled materials. They also use soy-based inks on all of their organic bumper beds. Abigail and Jax, our French Bulldog Mascots, have a West Paw Bumper bed that we keep in the store and one to slumber in at home.
Our bolster beds are made by NAP, Soft Touch, and by special order, the West Paw bumper beds. We also special order both cooling and heated beds. Our newest addition to footwear are the PAWks made by R.C. Pets. They are rubber dipped breathable sock. Ultra Paws is the dog boot company that we stock, in two different levels of durability. One is a fairly basic fleece boot with a rubber sole made for indoor and light outdoor use called the Traction Boot.
The other is a much more durable canvas boot with a thick rubber sole made for outdoor terrain specifically, called the Rugged Boot. The Rugged Boot as been working great for our customers who frequent Forest Park, and the Columbia River Gorge.
Dog and Cat Clothing Selections:
Dog and Cat Bed Selections:
Aspen Pet

DMC

Furhaven

Pet Crest

Ruffwear

Snoozer
Dog Boots: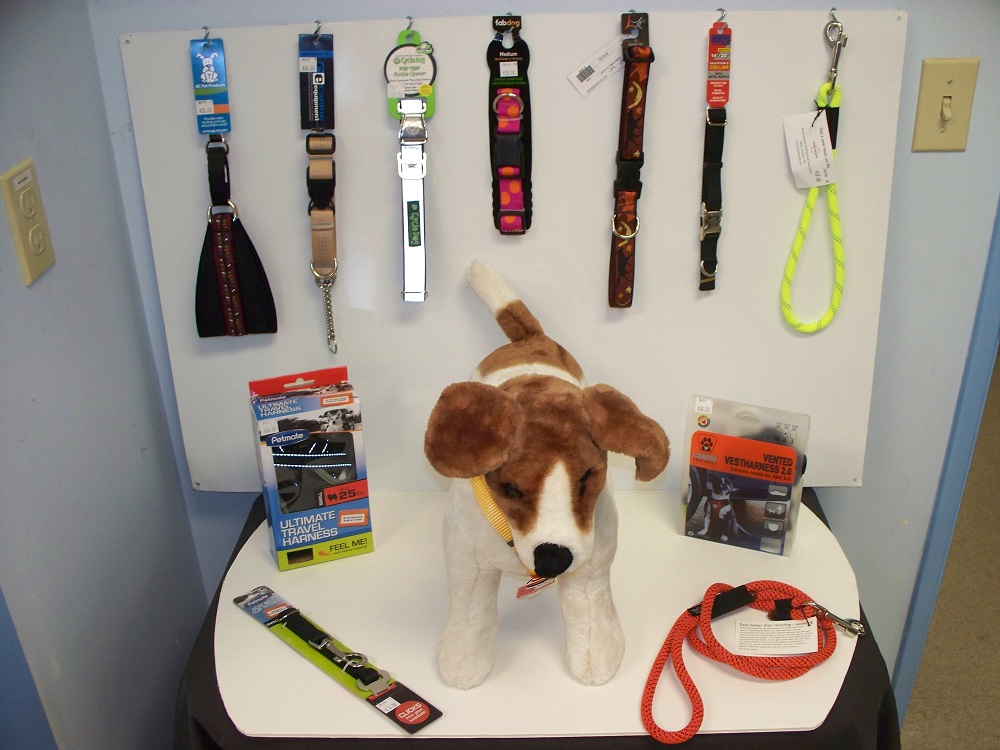 About our collars, leads
We have a lot of options available for collars & leads.
We carry a huge selection of bold colored collars & leads from Coastal Pet Products. We have both the plastic buckle Tuff collars, and the metal buckle Titan collars. Coastal Pet Products makes the line of choke chain and prong collar lines that we carry, along with cable tie-outs in 10′, 15′, 20′, and 30′ lengths. Speaking of cables, Oregon based Mutt Gear has a line of chew-proof cable leads in 4′ and 5.5′ lengths that we stock in many colors. Our selection of harnesses is split between Red Dingo for our nylon, R.C. Pets for our padded vest style, and EZ Dog and PetMate for the car safety harnesses.
As for patterned styles, we carry the Lupine products and try to keep new and exciting patterns coming into stock. One of our newest brands has recycled bicycle inner tube collars with patterns, bold colors, and reflective options that are made right here in Portland by Cycle Dog. Abigail and Jax, our resident French Bulldogs, always like to look their best sporting the fun patterns from Cycle Dog. Two new leads we have are recycled climbing ropes from Krebs and Red Dingo nylon leads that are adjustable from 4 to 6 feet.
We carry a large variety of cat collars also. We have a lot of the same fun patterns on our Lupine cat collars, along with a large amount of bold colors. Safe cat collars that have either a quick release buckle or elastic collars that stretch to release make up the majority of what we offer for cats.
Reflective collars are available in multiple colors for both dogs and cats. Now for those pesky pullers, we carry harnesses, head collars, and leads that put these strong-willed dogs in check. For harnesses and head collars, we carry the Sporn and Premier head collars and harnesses and have recently added the Seattle based Wonder Walkers to our lineup.
We also have bungee leads to help with pulling made by Rok Straps. How could we leave out our large supply of retractable leads? We carry the Flexi brand and have most of their colors and lengths. Even with our large selection of collars & leads, and related products, we are constantly hearing of new and intriguing ideas, and are happy to research new collars & leads options for you.
Dog collars & leads
Cat collars & leads:
Goli

Locatis

NiteIze

Plush

RC Pets

Ruffwear

Wigzi

Wonder Walker

2 Hounds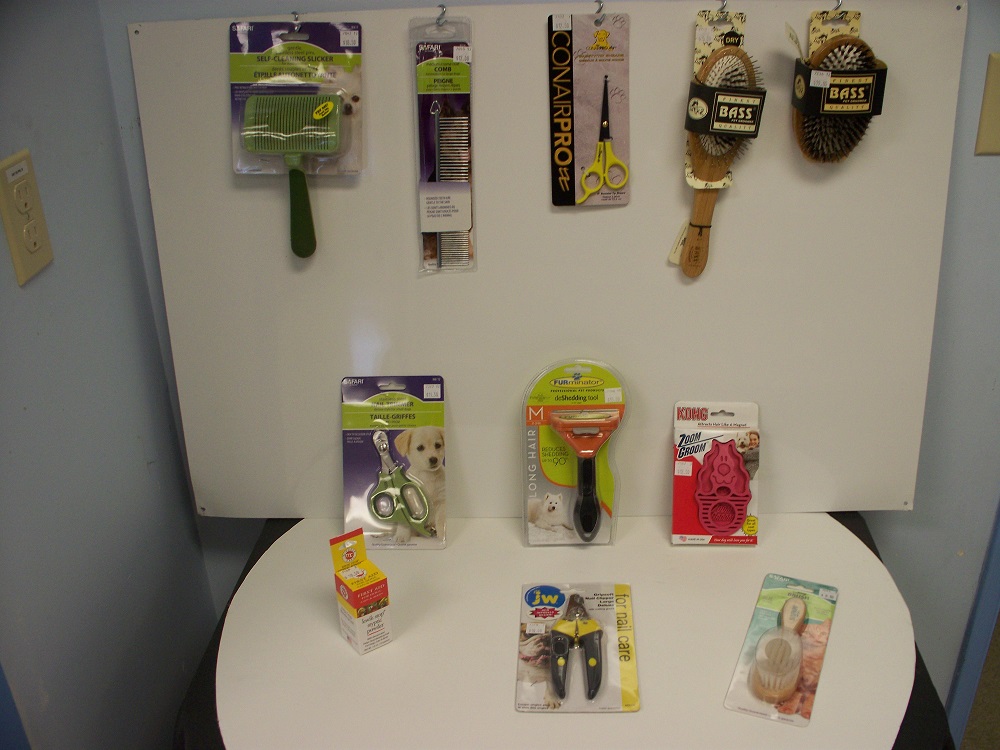 Since we already covered shampoo in the health section, were going to focus more on grooming supplies such as combs, brushes, nail trimmers and files, clippers, and DE-shedding tools.
We have the right supplies for tackling dogs and cats with really long or short hair, or thick hard to comb undercoats. Safari, a Coastal Pet Products name, is the primary grooming tool brand that we carry. From them, we carry a wide selection of fine-tooth combs, slicker brushes, Shed Magic tools, nail trimmers in both scissors and guillotine styles, flea combs, DE-matting rakes, and rubber grooming tools.
We also have many of the same style combs, brushes, and trimmers in the Con Air Pro line. Along with their regular line of grooming supplies, we have their grooming scissors and electric hair trimmers and clippers in both a large and small breed size. Kong pet products also make a line of dog and cat brushes. They work very well for removing those pesky undercoats.
The Kong brushes are made out of a rubber material that works very well for collecting hair from furniture and car seats. Nail trimmers aren't the only nail tools we have. We also carry Gentle Paws, the rotary nail file from Oster. If you happen to trim the nails a little too far, we have Kwik-Stop, a cauterizing powder to stop bleeding from the nails quick. Grooming supplies shouldn't be limited to pets though; we have dog and cat hair removers for use on furniture and lint rollers and refills for your clothes too.
We have also recently brought in to stock a product called Zero Odor, which will eliminate skunk odors from your pet. When you combine these grooming tools with our shampoos and grooming wipes, you'll end up with quite the presentable pet. If you have any questions about these grooming supplies or any others, please feel free to ask, we are happy to help.
Grooming Products We Stock: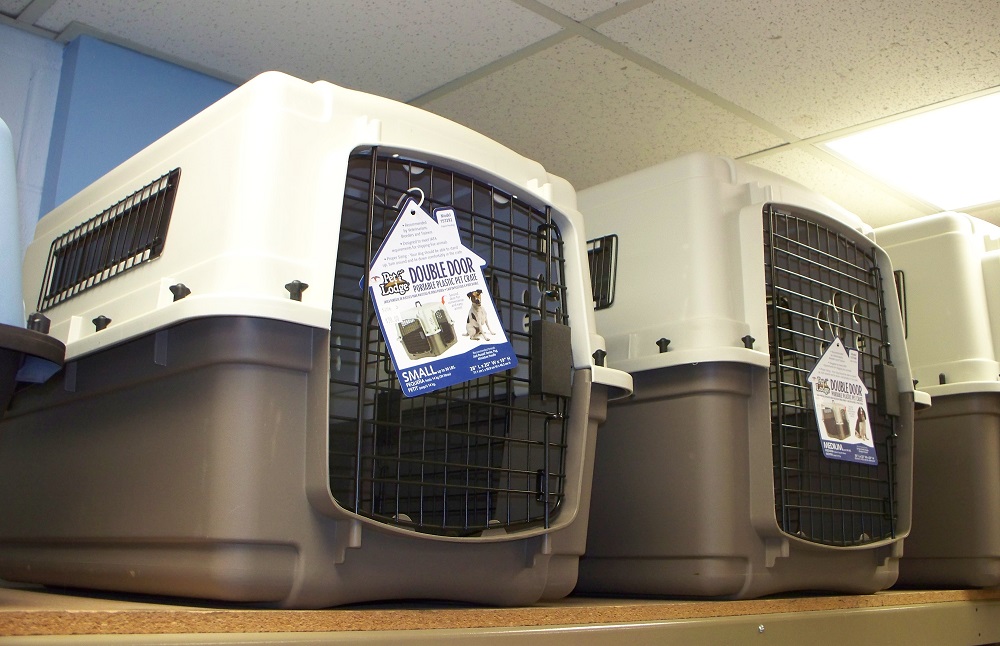 About Our Pet Kennels
Dog and cat kennels and crates come in a few different styles and materials. There are hard shell plastic dog kennels, wire dog crates, soft-sided kennels, and duffel style travel bags.
As far as the hard shell kennels are concerned, we carry the Miller Crate brand; they are a double door with a door on the end and side. We also carry the wire dog crates from Precision Pet Products. They are available in a single door model, a double door model with a door on the side, and a door on the end, or a three-door model where there is a door on the side, a door on the end, and an opening on the top for easy access.
While we only stock the double door model, we would be happy to order in either the single or the triple door models. We have a wide selection of crate pads from West Paw Design, and Midwest that fit all sizes of kennels available. We keep in stock on a regular basis the Original Sherpa bags, which are a duffel bag style that is approved for under the seat travel for all major airlines.
Midwest Pet Products also makes a line of exercise pens that come in heights of 24", 30", 36", 42", and 48". These clever little fences come with eight two-foot-wide panels that are connected on the edge of each panel. This means you can adjust it from an octagon shape to a 6'x2′ run, or a 4'x4′ square. They easily fold up to block doorways or slide under couches or beds for easy storage. They also have eight ground stakes included so you can set up a more permanent pen in the backyard if you like. If there are any pet kennels you are looking for, please let us know, and we can help try and locate it for you.
Our Kennels in Stock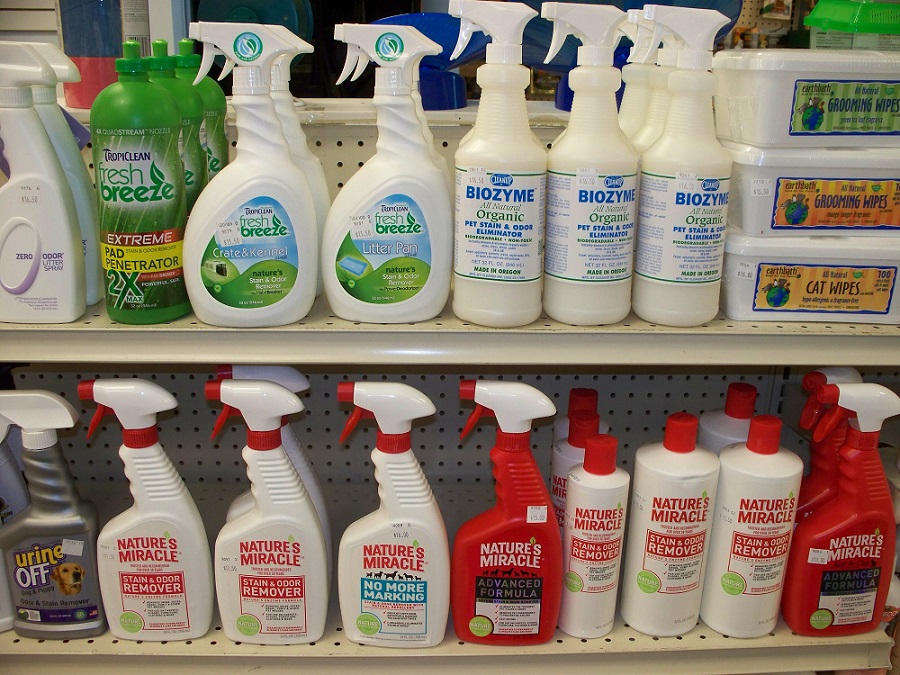 About our stain & odor control products
Pet Stain and Odor Control is important. Whether you have a dog or cat, birds, or even reptiles, at some point, you will need to clean up a mess or two.
Our extensive selection of stain and odor removers will fit the bill for the quick wipe up on hardwoods to the deep set-in stains. We have a variety of enzyme cleaners, enzyme bacteria combos, chemical cleaners, and really effective odor zappers. Our tried and true brand is made by Cleanup Inc, it is a locally made enzyme clear made right here in Portland called Biozyme.
It contains three trillion biological enzymes per gallon and is formulated to digest proteins, urine, and feces. The only time we have run out is due to the fact that our supplier had to make a fresh batch before they could ship, ensuring that we always have a current potent supply. We also have an array of other brands that we have return customers very happy with. Tropi-Clean makes a line with different varieties based on what kind of flooring you have in your home. They have a version for carpet, both in a sprayer and an injector cap bottle, along with a mix made specifically for hardwood floors, and a crate and kennel spray.
Our other brands of enzyme cleaners are Nature's Miracle, and Urine Off, these brands come in both dog and cat-specific varieties. The only chemical-based cleaner that we carry is Get Serious. Get Serious improves in efficacy when heated, and is our go-to for the deep set-in stains.
We also have a variety of litter pan cleaners and products made to eliminate odors in a matter of seconds made by Zero Odor. If your pet makes a mess, we will surely have the products and tools for a quick, painless cleanup. Stop by and see for yourself. If you have any stain and odor control questions, do not hesitate to ask us; we are happy to help.
Pet Stain and Odor Control Products In Stock: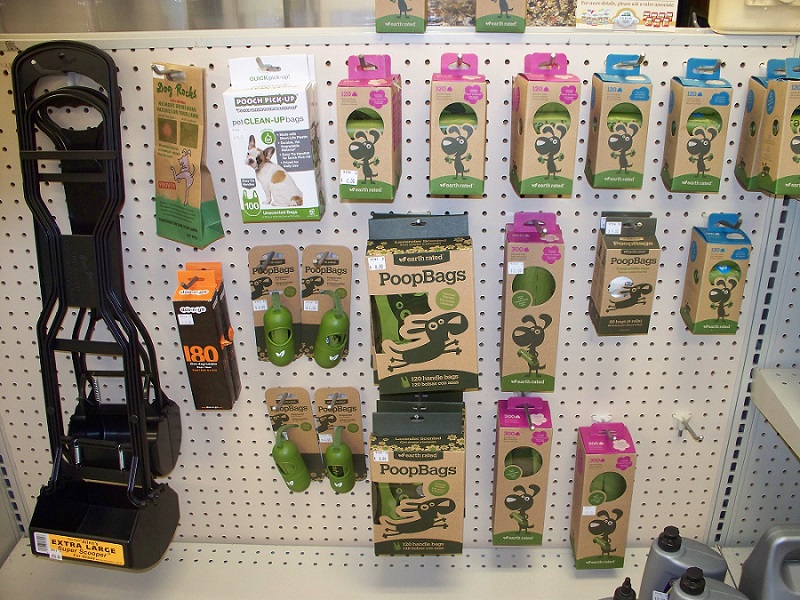 About Our Pet Waste Management Products
Pet waste management, oh, where to begin. Poop bags, I'll start with poop bags. The great debate in the cleanup bag world of pet waste management is Biodegradable vs. Non- Biodegradable.
On one end, biodegradable are great for the obvious reason that it means fewer plastic bags in the world. On the other end, the argument is that our landfills were never designed to accommodate that much waste. As a result, the bags are biodegrading, and the excess feces is absorbing into the soil and seeping into our underground water supplies.
My answer to the great debate is to stock both kinds, and let the consumer choose for themselves which style of the waste management system is the best for the individual consumer. This is Portland, so I've found that 75% of our customers still prefer the plant-based biodegradable option simply because the manufacturing process creates less pollution, thus gives them an edge over plastic.
There are many varieties of bags out there, of which we stock Bags on Board, Domingo, Pooch Pick-up, and last but not least, our local brand who's providing local jobs in Wilson Ville, Trellis Earth Products. Trellis Earth makes not only poop bags, but also grocery bags, trash bags, food storage containers, and many other earth-friendly products. We are proud of the fact that all of our grocery bags are made by this company as well.
We also have a reasonable selection of different poop scooper if you are the type to bypass the bags altogether and compost your pet's waste. We special order the in ground units and enzyme tabs for them that enable you to digest your pets waste in your back yard so your not using plastic or filling the landfills.
Regardless of what category you fall into, we have the products and tools that you need to have a clean stool free backyard and neighborhood. If you have any pet waste management questions or suggestions, please do not hesitate to ask; we are here to help.
Waste Management Products In Stock Now: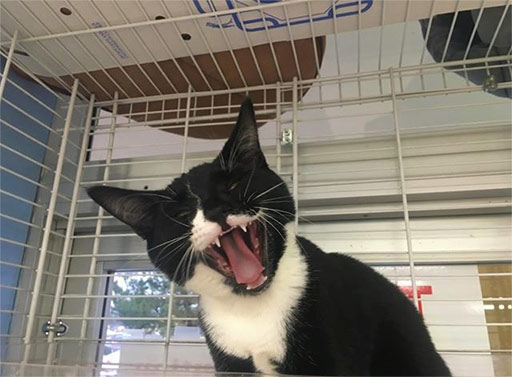 Name: Ursula and Ugo
Age: 5 Months
Info: Kittens!!! Two bonded tuxedo siblings in store!
Cat adoption fees are $125 cash or check for one cat, or $250 cash, or check for a pair. This fee will go to support the Columbia Humane Society.
How does the ocean say hello?
Answer...
At the bottom right of the page