Our Pet Boarding
Services in Oregon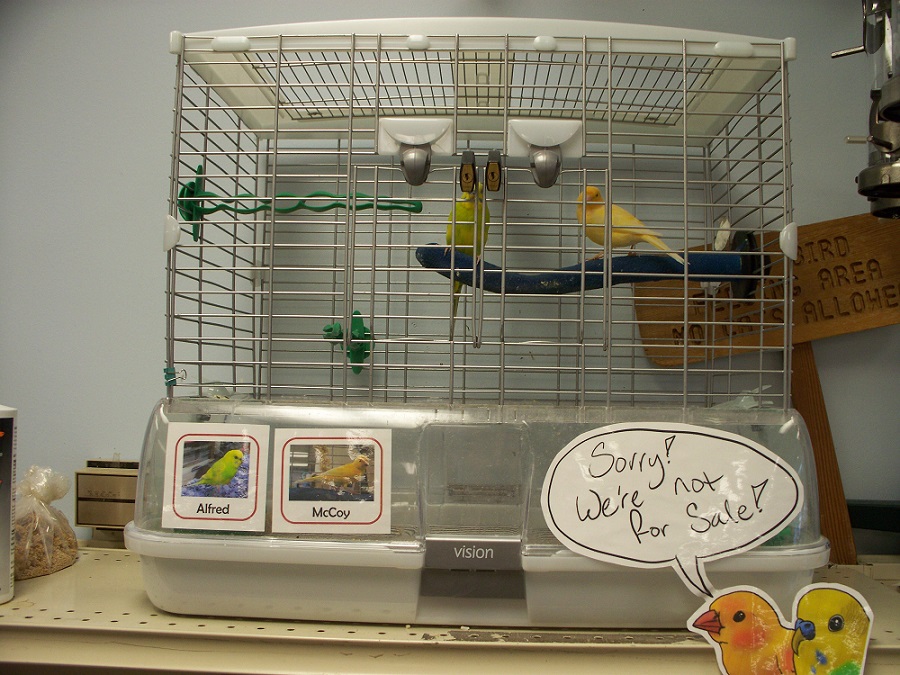 About Our Pet Boarding Service
We do offer small pet boarding services for when you just need to get out of town for a while. As much as we'd love to, unfortunately, we just don't have the space to accommodate dogs and cats. Our small pet boarding service is, however, well designed for your birds, small animals, and reptiles.
We charge a very reasonable rate of; $8.00 per day for birds & reptiles and $10.00 per day for rodents. We provide food for up to $1.00 per day and ask that you bring your own cage, any special diet for your pet, and the substrate that you prefer.
We can try to order your preferred bedding or food for you if we don't carry it, but please ask ahead of time so we can prepare for your pet's arrival. We carry Crickets, Dubia roaches, and Mealworms for those of you who have reptiles and amphibians. We are located next to Bales Marketplace, a locally owned grocery store. This ensures that we have the freshest fruits and vegetables available to us upon your request. Another perk for using us as your primary pet boarding service is that we keep in stock all of the bulbs and heaters that you will be using for your reptiles.
We can easily replace a bulb for you if yours burns out. That way, you don't have to worry about your pet, not getting the proper lighting and care while your away.
We've got quite a few regular bird boarders whose species include various cockatiels, love birds, budgies, finches, and canaries. As far as reptiles and amphibians go, we often see bearded dragons, veiled chameleons, leopard geckos, crested geckos, anoles, whites tree frogs, and Cuban tree frogs and some aquatic frogs.
Small animals include rabbits, guinea pigs, chinchillas, rats, hamsters, mice, and occasionally – degus, sugar gliders, and hedgehogs.
We ask that we have a minimum of a weeks notice for your pet's arrival, but will make exceptions to this rule in emergencies. We have limited space for large terrariums and cages, so it's best to call ahead for Spring Break, Thanksgiving, Christmas, and New Years. Having your own cage is a requirement: please contact us ahead of time by phone (503) 641-9443 or by e-mail if you have a terrarium larger than 20 gallons, or a small animal cage larger than 2′ x 3′.
Give us a call if you have any questions about our pet boarding service – we are happy to help!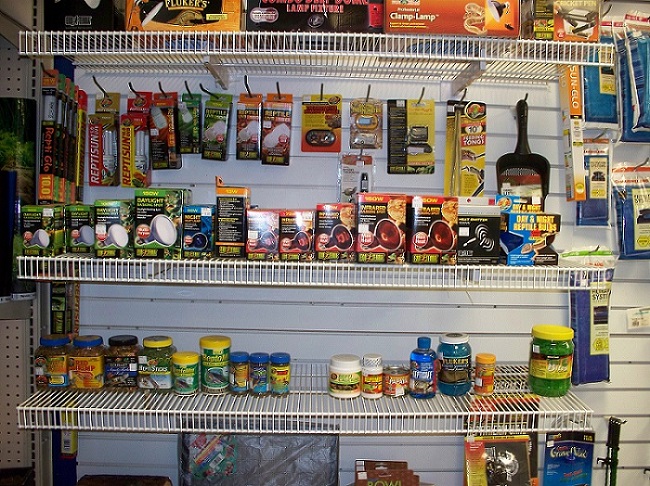 About Our Reptile and Aquatics Products
Our reptile & aquatic sections have everything from foods to filters. Our ability to order direct from vendors like Hagen and Penn Plax makes it easy for us to keep an ample supply of aquarium and reptile products on hand for your purchase. Many other reptile and aquatic products and supplies, including tanks and terrariums, are done on a special order basis. There are many kinds of aquariums that you can have, ranging from Tropical aquariums to African Cichlid tanks with species from Lake Tanganyika being the most difficult to maintain.
Aquariums come in many different shapes and sizes, as well as fresh or saltwater. They also come in glass or acrylic. The three main kinds of habitats for reptiles are Temperate kept at 50-80*F, Tropical kept at 75-90*F, and Desert habitats that have a larger range from 50-100*F.
The basic types of habitats are Subterranean, Savana/Desert, Woodland/Forest, Tall Planted, and Simple/Hygienic vivariums. Reptile and Amphibian lighting can be very simple or incredibly complicated.
Some only require a basic basking lamp, where others require heat bulbs in combination with UVA/UVB bulbs, and finally, the most complicated is heat bulbs and UVA/UVB in conjunction with a mister that regulates the humidity of the habitat.
Leopard Geckos tend to be great for beginners, and Veiled Chameleons are much more advanced with many varying difficulties in between. Because there are so many options available in the reptile and aquatic fields, we only keep in stock the necessities but are more than happy to order any products that you are interested in.
At Pet Barn, we understand that your scaly companions are also members of the family, and we are here to provide you the products you need.
If you have any reptile and aquatic product needs, do not hesitate to contact us about them; also, If you would like us to find a product for you, we will do our best! Areas don't have the largest selection imaginable. We do carry everything your pet will need to live a happy and healthy life.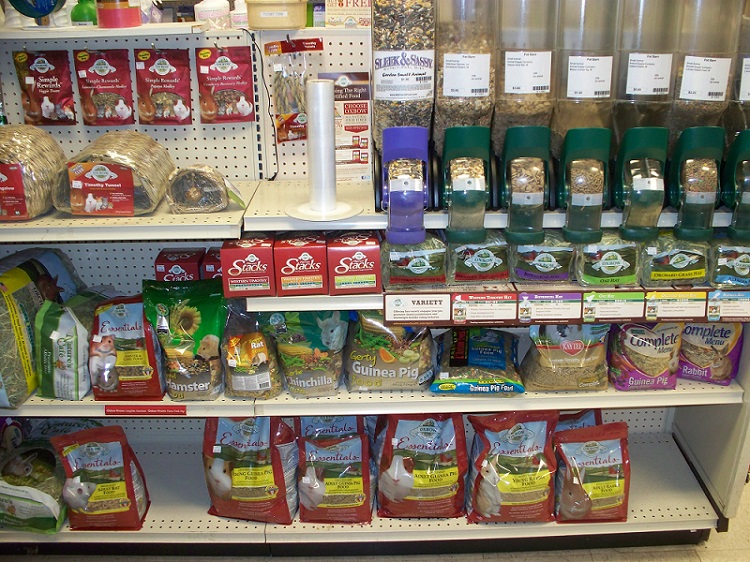 About Our Small Animal & Bird Products
While our small animal & bird product areas don't have the largest selection imaginable, we do carry everything your pet will need to live a happy and healthy life. We can order many different cages for both small animals and birds from distributors like Hagen and Penn Plax.
Our selection of bird foods is excellent, it includes Sleek, and Sassy (of which we also carry the small animal), Zupreem pelleted diets in the Natural and Fruit formulas, locally made Totally Organics pellet and seed, various flavors from 8n1, and Golden Farm Products spray millet. We carry many small animal and domestic bird supplements, too, including a few fun flavors of cuttlebones.
---
A large selection of bird toys makes up the entire upper half of our bird area. We have many styles of bird toys for large and small birds and quite a few options for small animals too. For small animals, we have a larger quantity of treats and chew sticks to keep them occupied
Our small animal and bird beddings are recycled paper varieties from Carefresh, Sunseed, and Kaytee, along with wood shavings from Kaytee, and pelleted bedding from Oxbow Pet Products.
Oxbow also makes our premium line of small animal foods for mice, hamsters, rats, guinea pigs, and rabbits, and has one of our lines of small animal hide-aways. Along with the Oxbow timothy hay huts, we also have the Penn Plax Timber Hideaways, and the Igloos made by Superpet.
We also have small animal diets made by our preferred Oxbow, along with Supreme, Sleek and Sassy, L'avian, Kaytee, and Sunseed. We are more than happy to special order any products available from our vendors.
We are dedicated to providing high-quality products for your companion animals and high-quality service to you. If you would like to learn more about our small animal & bird products, give us a call or, better yet, stop on by!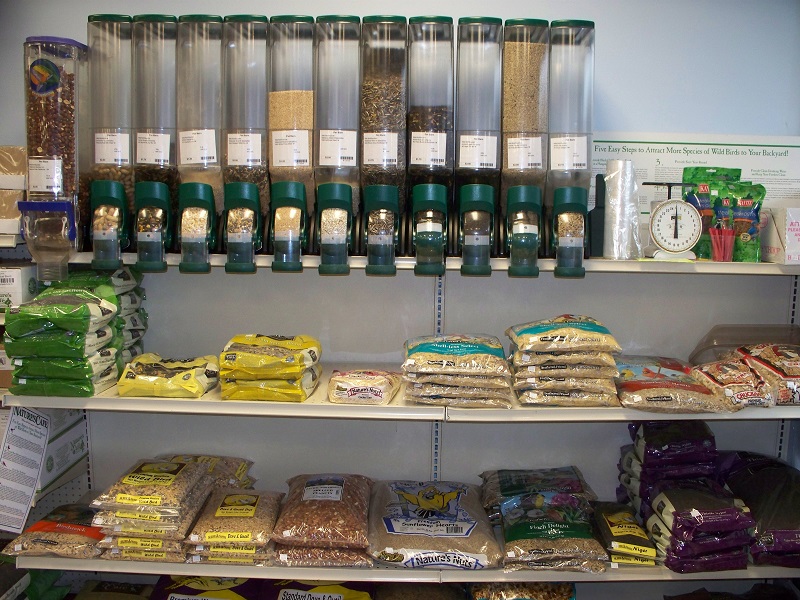 About Our Wild Bird Products
Living in Oregon, how could you not love the abundance of wildlife that we are blessed with? Being that we appreciate the local wildlife, we like to order our wild bird supplies from local distributors and manufacturers. Natures Cafe is our primary line of wild bird foods. They are located in Federal Way, Washington.
They've got everything from black oil sunflower to no waste patio mixes and squirrel mixes. We have two local distributors of wild bird products that we order from, Animal Supply Company, And Z-Bird Products.
Animal Supply Company has a warehouse in Seattle, Washington, and another in Clackamas Oregon, we get most of our seed and supplies from them. Z-Bird Products is located just across the river in Vancouver, Washington, and oftentimes we just drive up to get our orders they're so close. From Z-Bird, we get almost all of our bird feeders made by Aspects, Droll Yankees, and Brome.
They've also got a line of eco-friendly feeders made from recycled materials that we keep in stock.
We've got quite a good selection of hummingbird feeders too. Some are a little more extravagant, and others are really affordable but still get the job done.
We also carry the nectar mixes for our hummingbird feeders. We carry a variety of wild bird and squirrel foods from Nature's Cafe, C&S, and Chuckanut. Yes, I said squirrels. The wild bird feeding community is split between those who feed the squirrels and those who don't. At Pet Barn, we enjoy the company of everyone and are happy to meet your squirrel supply needs as well.
We also have a decent selection of bird suet, bird feeders, and nesting materials. If you want to come in and just chat about what shenanigans are going on in your backyard, our staff would be happy to lend an ear. Stop by and have a look around. If you don't find the wild bird products or wild bird supplies you are looking for, let us know, we are happy to help you find what you are looking for.
Some of our wild bird products in stock:
Sleek & Sassy:
Black Stripe Sunflower Seeds
Dove & Quail
Western Wild Bird
White Proso Millet
Nyjer Thistle
Suet:
Fruit & Nut Blend
High Energy Blend
Hot Pepper Blend
P'Nuttier Blend
Sunflower Blend
Woodpecker Blend
Feeders:
Perky Feeder
Suet Feeder Tail
Misc:
Hummingbird:
Squirrel:
Poultry: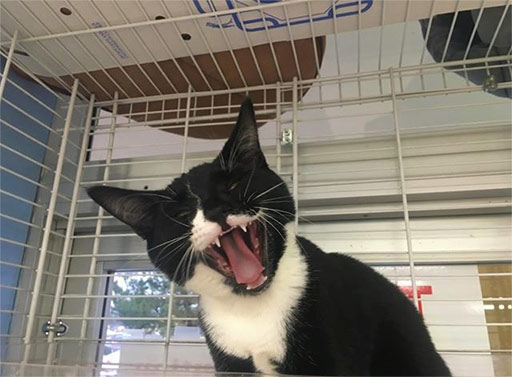 Name: Ursula and Ugo
Age: 5 Months
Info: Kittens!!! Two bonded tuxedo siblings in store!
Cat adoption fees are $125 cash or check for one cat, or $250 cash, or check for a pair. This fee will go to support the Columbia Humane Society.
How does the ocean say hello?
Answer...
At the bottom right of the page